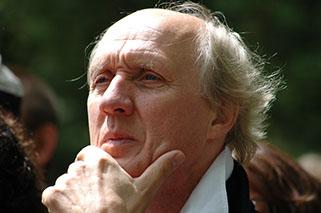 Patron of Roses for Children Herman van Veen
HERMAN VAN VEEN SPEAKING
'Imagine: a little Afghan boy, scarcely three years old, fleeing bombardements. 
He has nothing to eat, hardly anything to drink. THOSE children need a voice, their own place.
I have always wondered why government leaders gather round graves of unknown soldiers.
That is undoubtedly right, but in wars and conflicts we do not only mourn soldiers.
Others, amongst whom children, also suffer, while they often have nothing to do with this conflict.
Precisely for these innocent children there is not enough attention. We do care about those silent victims,
about whom governments do not care and for whom there is no place.
The Monument for the Unknown Child will be such a place.
A place where we commemorate the suffering that is inflicted upon children worldwide.
This monument will be an unforgettable place. An impressive place with those big stones upon which children will be able to climb.
We would like to see a little miracle happen, a place that belongs to  everyone, that belongs to the world, 
surely that is a beautiful plan?'
Source: Yarden Magazine 4-2001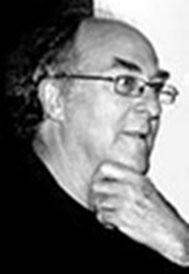 Rob Frank, chearman
STONES LINKED WITH INVISIBLE THREADS
"When you are asked to contribute to the goals of Roses for Children, you can not do otherwise then say yes. So I said 'yes', when I was asked to become the chairman of this foundation.In the same way as I said yes when I was asked  to arrange a huge stone from Israel, or  to lead the celebration on the occasion of the fifth anniversary of the Monument and I know that in future I will say  'yes' more frequently to  Mirjam and Sil. Maybe I also sometimes say 'no', but then I will explain this well.
Being the chairman sounds weighty, but to me it just means that I will  help achieve the foundation's goals, with the placement of the last stone in the Monument in Arnhem as the apotheosis .
With the placement of that last stone a monument that is unique in the world will be realized  .
Thousands of tons of stone moved on thousands and thousands of miles. Every stone a pooling of energy, by thousands of years of history, life and death, joy and sorrow.
And all that energy and history bundled, concentrated on that one spot in Arnhem, with invisible threads attached to all their places of origin.
The mother and her children from all over the world."
Mirjam van Oort, secretaris
DROOM IN UITVOERING
"Het Monument voor het Onbekende Kind vertelt over kinderen, over dood, over leven. De dood van een kind verandert je kijk op het leven. Kinderen horen niet te sterven. Ik heb geen kind verloren en daar ben ik dankbaar voor. Wel heb ik als kinderverpleegkundige in het Radboud ziekenhuis vaak meegemaakt dat anderen afscheid moesten nemen; de noodzaak, de moed en de pijn om een kind los te laten. Ik heb onmacht gevoeld, verdriet gedeeld. Het heeft mij voor altijd veranderd.
Het leven van kinderen gaat mij en ons allen aan. De pijn van het verlies van een kind is universeel en liefde houdt bij de dood niet op... Als ik zie hoe mijn kinderen in het leven staan, hoe ze leven en meestal gelukkig zijn, voel ik soms heel scherp de onrechtvaardige ongelijkheid. Wij hebben zoveel kansen gekregen, tegelijkertijd zijn er heel veel mensen - die net zoveel rechten hebben - maar die geboren zijn onder totaal andere omstandigheden.
In 1999 ontmoetten we Herman van Veen en zijn droom werd onze droom: een monument voor alle kinderen. Het viel ons toe hieraan invulling te mogen geven. Stichting Roos werd opgericht en vanaf dat moment is het een 'droom in uitvoering'. Het vorm mogen geven aan de levenscirkel - de cirkel van stenen met in het hart de 'Roos' - en alles wat we daarbij tegenkomen, is mijn passie.
Het maken van dit wereldmonument gaat verder dan het verzamelen van stenen. Het gaat om het verhaal achter de stenen; om de geschiedenis en de toekomst van de kinderen; om liefde, om zorg, om de rechten van ieder kind. We hadden de stenen ook kunnen kopen. Dan was de cirkel in een keer klaar geweest, maar het monument zou niet leven. De verhalen zouden immers ontbreken. Ik voel dat alles met elkaar verbonden is. We creëren monumenten als een draad van verbondenheid over de wereld. Een belangrijke schakel tussen mensen die voor kinderen zorgen, die zich het lot van kinderen aantrekken. 
Bij de start van het project wisten mijn zus Sil en ik dat het een avontuur vol risico's zou worden. Risico's die de moeite waard zouden zijn. Er waren nogal wat mensen, die ons erop wezen dat het weliswaar een fantastisch idee was, maar dat het ook een onmogelijk en onuitvoerbaar plan was. Natuurlijk zeiden sommigen van hen dat we het niet zouden gaan redden. Dat we de lat veel te hoog legden en dat het ons niet zou lukken tonnen zware stenen uit alle windstreken van de wereld gratis naar Nederland getransporteerd te krijgen. En dat we mensen in het buitenland niet zouden kunnen motiveren voor de verwezenlijking van een monument in hun land.
Toegegeven... het is niet altijd even gemakkelijk. Maar ons onverwoestbaar vertrouwen geeft energie en brengt ons steeds verder. Het is een avontuur, dat van alles op ons pad brengt. Vallen en opstaan, met steeds iets anders, iets vreemds, iets onverwachts, iets wat tegenzit, iets wat ontroert en blij maakt. Nooit saai, nooit onmogelijk, niet gemakkelijk, soms vermoeiend, maar o zo de moeite waard.
Als zussen zijn we op elkaar afgestemd en samen zijn we in staat de passie en het praktische een te laten worden om dit project te kunnen verwezenlijken. Steeds vaker glippen we in elkaars gedachtegang. We hebben weinig woorden nodig. We weten precies wat we aan elkaar hebben. We hebben, naast het vele dat we samen ondernemen voor 'Roos', ook ieder ons eigen leven. Dat is verfrissend en het houdt ons scherp! We leren steeds. Wat hebben we goed gedaan? Wat kan beter of anders?
Gewoonlijk word ik regelmatig meegesleept door de stroom van dagelijkse dingen, de overvloed van activiteiten, de keuzes die ik moet maken. Maar wanneer we op steenreis zijn, draaien we de knop om en richten we ons op de reis en het doel ervan. Vaak wagen we de sprong in het duister door aan onze ingevingen gehoor te geven. Pas later zien we de logica of het risico van die sprong.
Dit project... levert een bijdrage aan de wereld. Deze 'bewegingloze' stenen, die aandacht vragen voor alle kinderen kunnen een grote beweging in de goede richting in gang zetten. Als we daarin niet zouden geloven, zou het niet lukken het monument te verwezenlijken."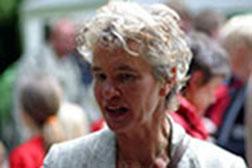 Sil van Oort, penningmeester
UNDER THE SPELL OF...
"Since the beginning, in 1999, I am involved in the project of  the Monument for  the Unknown Child. In all those years, the work for Roses for Children became my life's work.
I don't know exactly what it is, what keeps me under the spell of those unknown children...?  Fortunately, I have never lost a child, but I was there when friends of mine lost children, it is such an intens grief, it hurts so much.
In my life, children have an important, warm place and this will always be. For years I make mourning cards and paintings for children and I illustrate books, which have to do with bereavement  for children.
The activities for Roses for Children give me a wonderful opportunity to live my involvement with children around the world.
What we do, is only a drop in the ocean, but sometimes even that drop makes a world of difference.
Especially abroad, I often have the feeling that we actually contribute to a better situation for children. The mediating role we have, the listening ear we give, the attention and, above all the  confidence to shine some extra light their world.
Putting this together with Mirjam, my sister, feels quite right. We're going on the same stream, with the same passion and enthusiasm. 
We try to solve problems as challenges. Together we experience sometimes very exciting moments.
Lots of things we never did before, but there is a first time for everything and it is a huge supports to be together and to say: 'Come on, let's go for it".
Time and time again, I learn so much. I think it's fantastic , it's a gift that I may do this.
Was it coincidence that we met Herman? I don't think so.
It was meant to be!